Ted Hoehn
Co-Founder/Owner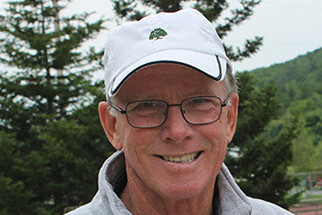 Ted Hoehn and Alden Bryan founded the Windridge Tennis Camp in Jeffersonville, Vermont, in 1968. Ted was 25 years old at the time, and he had compiled an impressive collection of titles on the tennis court, prior to embarking in the tennis camp business with Alden.
Hoehn has represented the United States in more than 20 international events. He has won five USA Tennis doubles championships as well as the World 50-and-over doubles championship. He has been ranked as high as No. 3 in senior men's singles. Some of his accomplishments included:
#1 rankings in New England in 13, 15, and 18 & unders
Co-Captain of UNC Tennis Team
Two-time ACC Doubles Champion
Two-time Eastern Intercollegiate Doubles Champion
Four-time New England Men's Singles Champion
Twice Eastern Men's Doubles Champion
The son of longtime Dartmouth College Tennis and Squash coach, "Red" Hoehn, Ted learned early on that he had a passion for teaching tennis, especially working with young people. So, to have an opportunity to start a children's camp in Vermont was a dream come true. Now, after 50 plus years of overseeing Windridge's growth, and having the privilege of serving more than 25,000 campers, Ted is proud to pass the torch to his son, Ramsey, and his wife, Nifer, who are the camp's new co-directors. Ted will remain as Chairman of the Board, and majority owner. Ted and his wife, Nanny, live in Vero Beach, Florida, during the winter months.