Skills for life, friends forever!
The "Windridge Experience" is based on our mission and a commitment to hard work, good sportsmanship, and wholesome fun and laughter within a warm and friendly environment.
Our philosophy is centered on the belief that young people who are encouraged to do well in areas that they enjoy will show positive personal growth. By providing a wide range of instruction in sports and an opportunity for supervised group living, we are able to give campers the fundamentals they need for fulfilling their individual potential.
Within the Windridge community, youngsters discover the meaning of trust and respect for others and are able to realize confidence in themselves as well as compassion and good feelings toward those around them.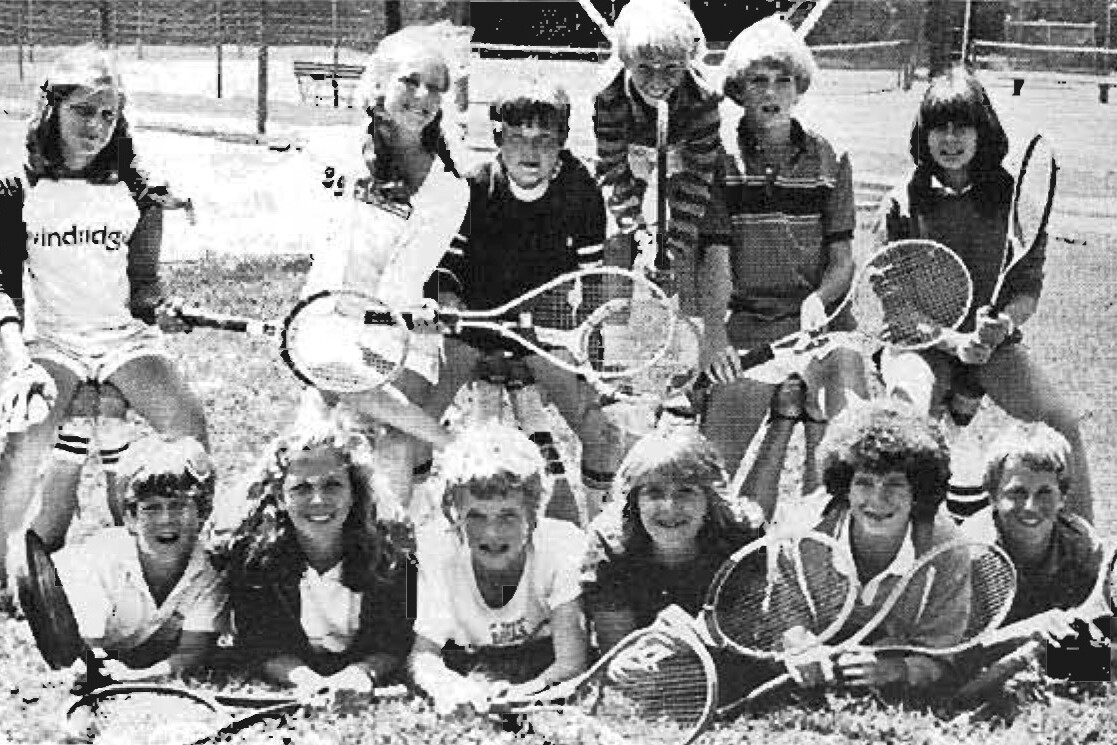 Windridge at Jeffersonville
The Windridge Tennis Camp was founded in 1968 in Jeffersonville, Vermont by Alden Bryan and Ted Hoehn.
Alden Bryan, a well known landscape artist and businessman, was an avid tennis player. Alden built the first indoor tennis club in Vermont in the mid 60's, along with two outdoor clay courts. Jeffersonville was fast becoming a popular ski destination, with Smuggler's Notch Ski Resort located just six miles away. Thus, the courts were very busy during the winter months, and quite slow during the summer.
Ted Hoehn grew up with a racquet in his hand. The son of Dartmouth College Tennis & Squash coach, Red Hoehn, Ted played in his first tournament at the age of seven. He went on to be ranked number one in New England in the 13, 15, and 18 & under rankings. After a stellar collegiate career at the University of North Carolina, where he played #2 singles and #1 doubles for the Tar Heels, Ted decided tennis was what he wanted to pursue as a career path. He loved all aspects of the sport; playing, teaching, and promoting. At age 25, Ted was the New England Men's Singles Champion. He had to decide at that time whether to pursue playing professionally (tennis was on the cusp of becoming "Open" and offering prize money to the players), or to settle down and follow in his father's footsteps and teach. As fate would have it, Ted received a letter from Alden Bryan in the Fall of 1967 inquiring if he would like to become Alden's partner in a "summer tennis camp". It was an offer too good to pass up, and a partnership was born.
The first Windridge Tennis Camp opened it's doors in June of 1968, the same year the U.S. Open was founded. The tennis boom was emerging - it was the perfect time to start a tennis camp!
The first summer in Jeffersonville attracted a total of 63 campers from all over New England. Ted assembled a great staff, the food and lodging was terrific, and the reviews from both parents and campers were very enthusiastic. Windridge was off and running.
Within the next five years, the camp grew exponentially. Four courts grew to twenty, six staff members grew to more than twenty. There was no more room to grow at Jeffersonville. It was time to expand.
Windridge Tennis & Sports Camps at Jeffersonville was in operation from 1968 until 1988.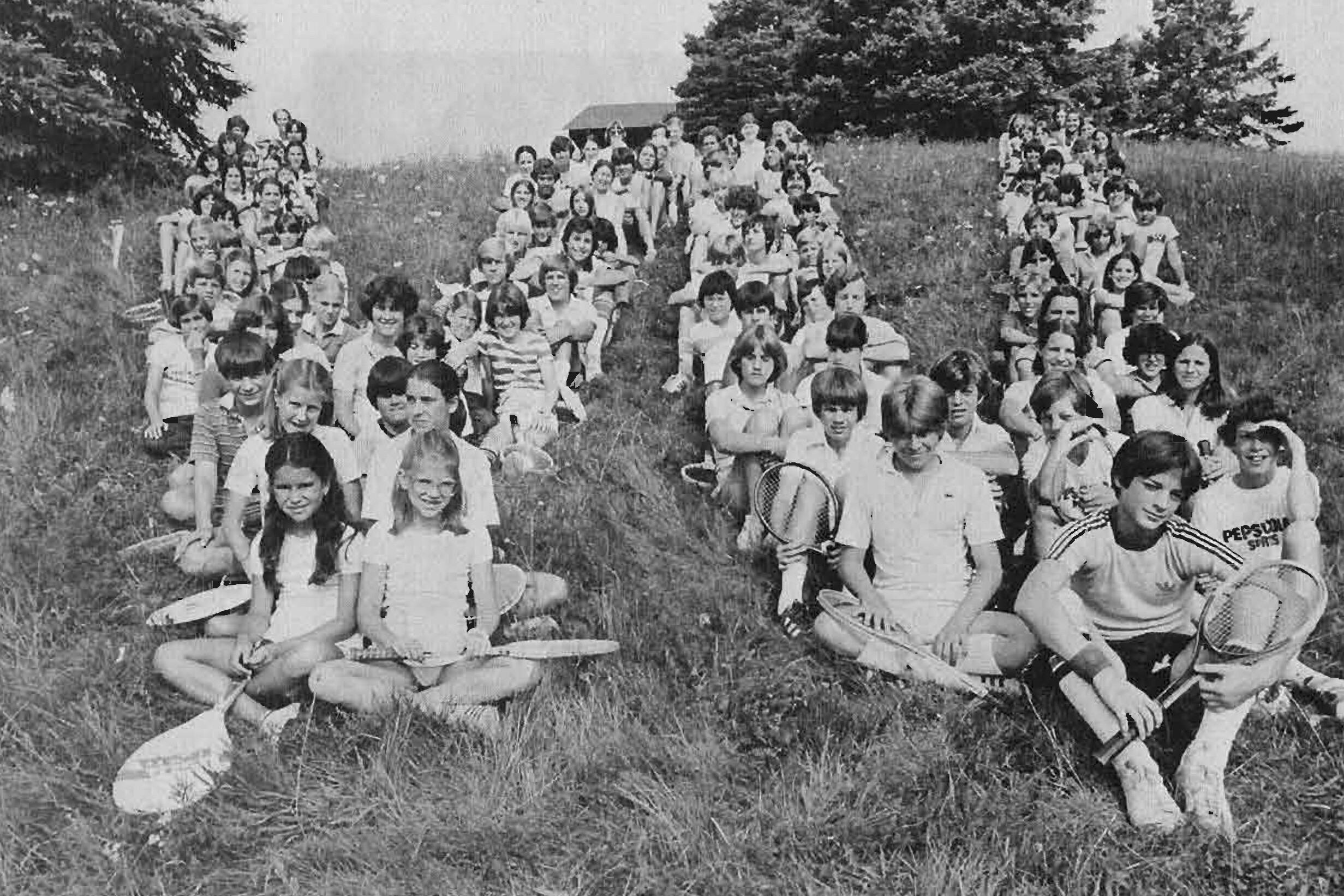 Windridge at Craftsbury Common
In 1974, an all-girls camp known as Holiday Hill in Craftsbury Common, Vermont, about thirty miles northeast of Jeffersonville, came on the market. Situated on beautiful Lake Hosmer with gorgeous views, the site was perfect for Bryan and Hoehn's expansion plans. It also offered the opportunity for the camp to branch out and be more than just a tennis camp.With it's fabulous lake frontage, swimming and sailing became instantly popular. With two hard-surface courts already there, Bryan and Hoehn immediately added 14 clay courts. The Holiday Hill property consisted of 26 buildings, including an Adirondack-style Dining Hall; an Arts and Crafts and Theatre building; a boat house; an infirmary; and 20 sleeping cabins on the lake's shoreline. It made for an idyllic camp setting, and Craftsbury became an immediate hit.
One of the main factors of its success - alongside its spectacular location and its diversified programming - was the hiring of Charley Witherell as the Camp Director, and his wife, Pam, as the Office Manager. Charley had worked at Jeffersonville for four years prior to moving over to Craftsbury. His background in water sports, his love of nature, his charismatic and easy going personality, and his leadership and organizational skills made him the perfect man for the job.Pam's role of dotting the i's and crossing the t's, paying the bills, communicating with the parents and campers, etc. was equally important. They were a wonderful team!

A popular camp for decades, Ted Hoehn sold the Craftsbury Common facility in 2010.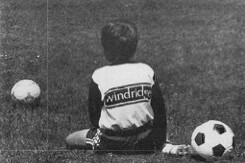 Windridge at Sugarbush
From 1982 to 1985, Windridge operated at a third location in Sugarbush, Vermont.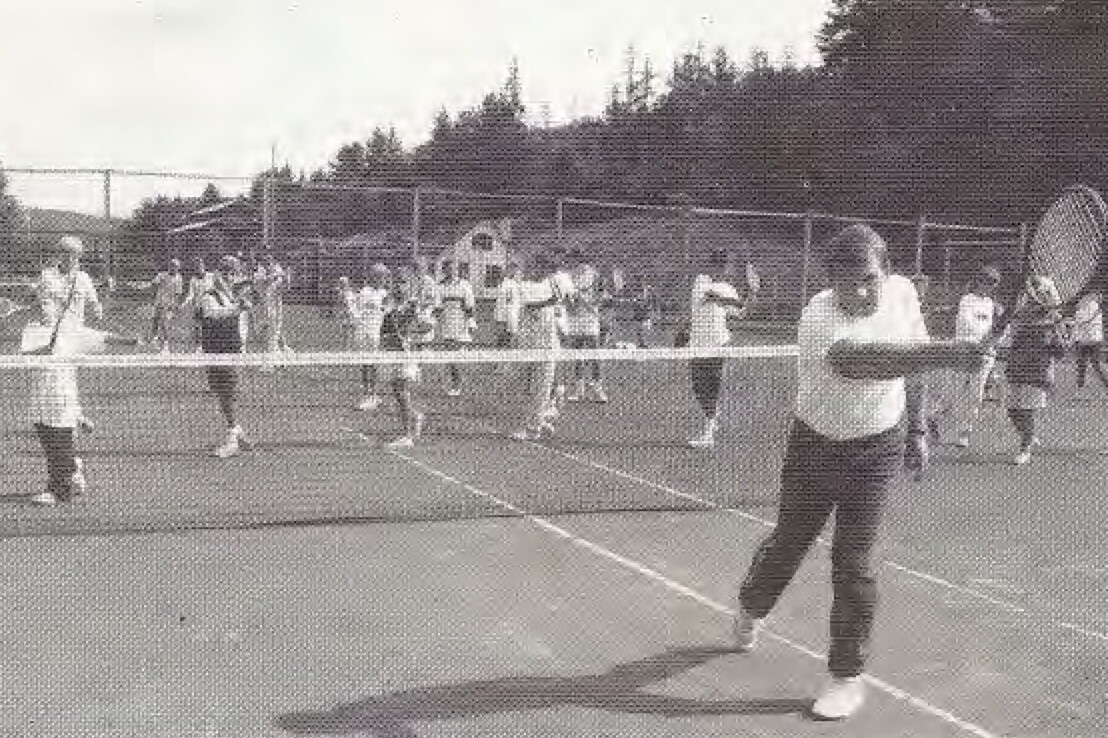 Windridge at Teela-Wooket
With both Jeffersonville and Craftsbury operating at full capacity, it was again time to grow. In 1984, another formerly all-girls camp specializing in horseback riding was put on the market. This was a large piece of property with plenty of room for expansion. 150 acres with almost 100 buildings, about 70 being sleeping cabins. With a spacious Dining Hall; beautiful 44-stall barn; Health Center; three Recreation Buildings; a swimming pond; many riding rings and playing fields, it had the ingredients that Bryan and Hoehn were looking for. The thought for Windridge at Teela-Wooket was to combine the horseback riding experience that was integral to the success of its predecessors, with tennis, Windridge's number one sport, along with a team sport.Since soccer is the world's most popular sport, along with the fact that it is played by both men and women, it was a natural fit for becoming a "major" at Windridge. Besides tennis, horseback riding, and soccer, Windridge at Teela-Wooket chose to offer "Electives" in such sports and activities as archery, mountain biking, arts and crafts, golf, ropes course, etc. This way, friends with differing skill levels and interests could all attend together and have both a customized and personal schedule, and one that would allow plenty of time to spend with their friends, albeit mostly in evening activities and during cabin time.

While Jeffersonville was primarily a a tennis camp, and Craftsbury was a combination of tennis, waterfront and some electives, Teela-Wooket has evolved into a place that allows for both specialization and diversification. There are eight, 50-minute periods at Teela-Wooket, and campers may choose their own schedules based on their own interests and skills. Many campers choose to major in one sport (two periods each day) and fill out the rest of their schedule with electives. Some choose to double major (ie: tennis and soccer), and select from four electives for the rest of their day. There is always some variation in our electives offerings each summer, based on the talents of our staff, but some examples are arts and crafts; mountain biking; archery; swimming; improvisation; rec games; futsal; tennis; golf; pickleball; and junior program. That's diversification!
Beginning in 2021, Golf was added as a major at Teela-Wooket. There are a myriad of choices and opportunities for all Teela-Wooket campers. Whether one wants to become a high school, college, or professional athlete, or simply wants to improve their game and have the experience of a lifetime meeting people from all over the world, Windridge at Teela-Wooket is the place where campers can fulfill their dreams and ambitions.