The Windridge Tennis & Sports Camp at Teela-Wooket is located in Roxbury, Vermont. Roxbury is 15 miles (ca. 24 km) south of Montpelier, the capital of Vermont, and is located right in the center of the state. The grounds encompass over 250 acres of woods, hills, meadows, and playing fields. A brook traverses the property. The camp faces west, providing a beautiful view across the valley to the Green Mountains. The dining halls windowed west side and its wide porch are an enjoyable setting from which to watch magnificent evening sunsets.
Our unique and relaxing facility has been the site for corporate meetings, weddings, family reunions, and specialty camps. With the ability to provide great programming, as well as top-notch food service, Windridge has been able to create a unique experience. If you are a team that is looking for that extra edge before the season or a private event rental for that special celebration with memories that last a lifetime, Windridge is your location. Whether your event is for one afternoon or several days, we can make it a success.

WINDRIDGE RENTAL FACILITIES
Cabins - 12 with bathrooms and 50 without bathrooms

Cabins sleep 2 to 14 individuals

Shower houses - 3 main shower houses with toilets

Dining Hall - a beautiful, timber-framed building that seats 200 and includes a modern kitchen

Recreation halls - two large buildings for indoor activities and meetings

Field House - a hard surface indoor facility for tennis, soccer, basketball, and other activities

Tennis - 8 Har-Tru courts, 13 red clay, 1 indoor

Soccer/Lacrosse - 2 full-size grass fields ready for a variety of sports

Horseback Riding - a barn with 26 stalls, an indoor riding arena, and 3 outdoor riding arenas

Swimming - 30' X 60' pool

Other facilities include - archery range, hiking and mountain biking trails, indoor and outdoor basketball courts, softball/baseball diamond, arts & crafts building, and volleyball.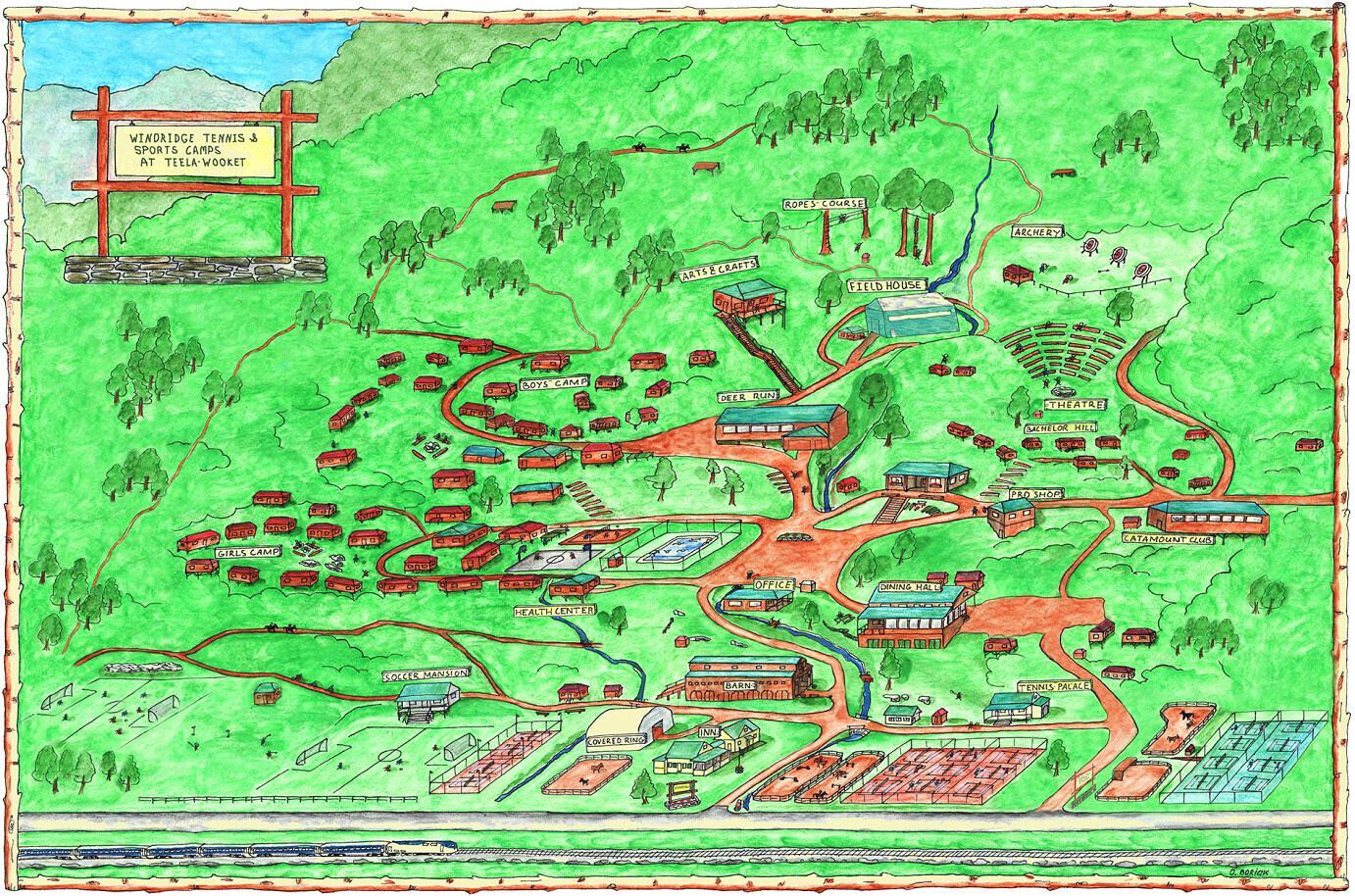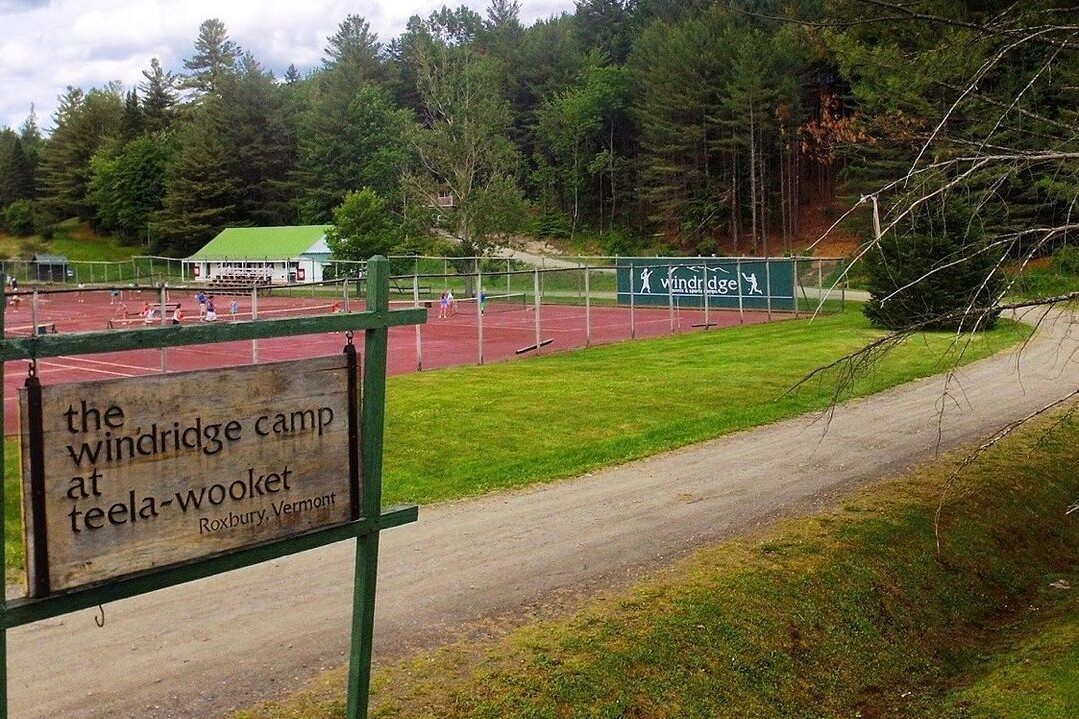 Dining Hall
The sizeable lodge consists of a salad bar, a convenient serving area that joins on the kitchen, drinks counter, centerpiece fieldstone fireplace, high ceiling with exposed beams, hardwood flooring, and a wraparound porch. Round tables that seat 6-8 are available if needed with a total capacity of about 200 guests.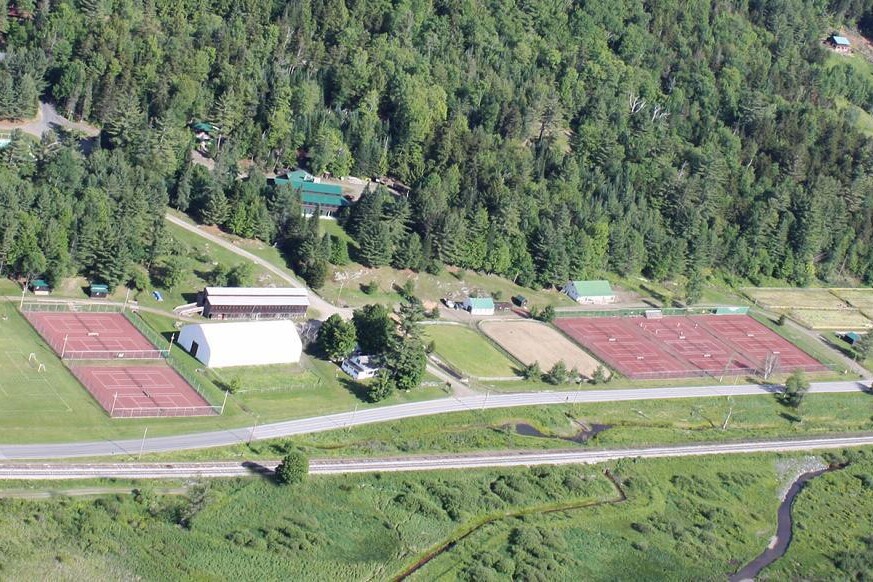 Lodging
Sleeping facilities consist of 8 cabins and one Director's cabin which include bathrooms (used for the camp's head staff during the camp season). Rustic wooden cabins of various sizes that sleep 6 to 14 are also available. These cabins consist of either bunk beds or cots and have screened windows and electricity. Limited cabins contain a shower, sink, and toilet and most utilize nearby bathhouses for their shower and toilet facilities. Bedding is available.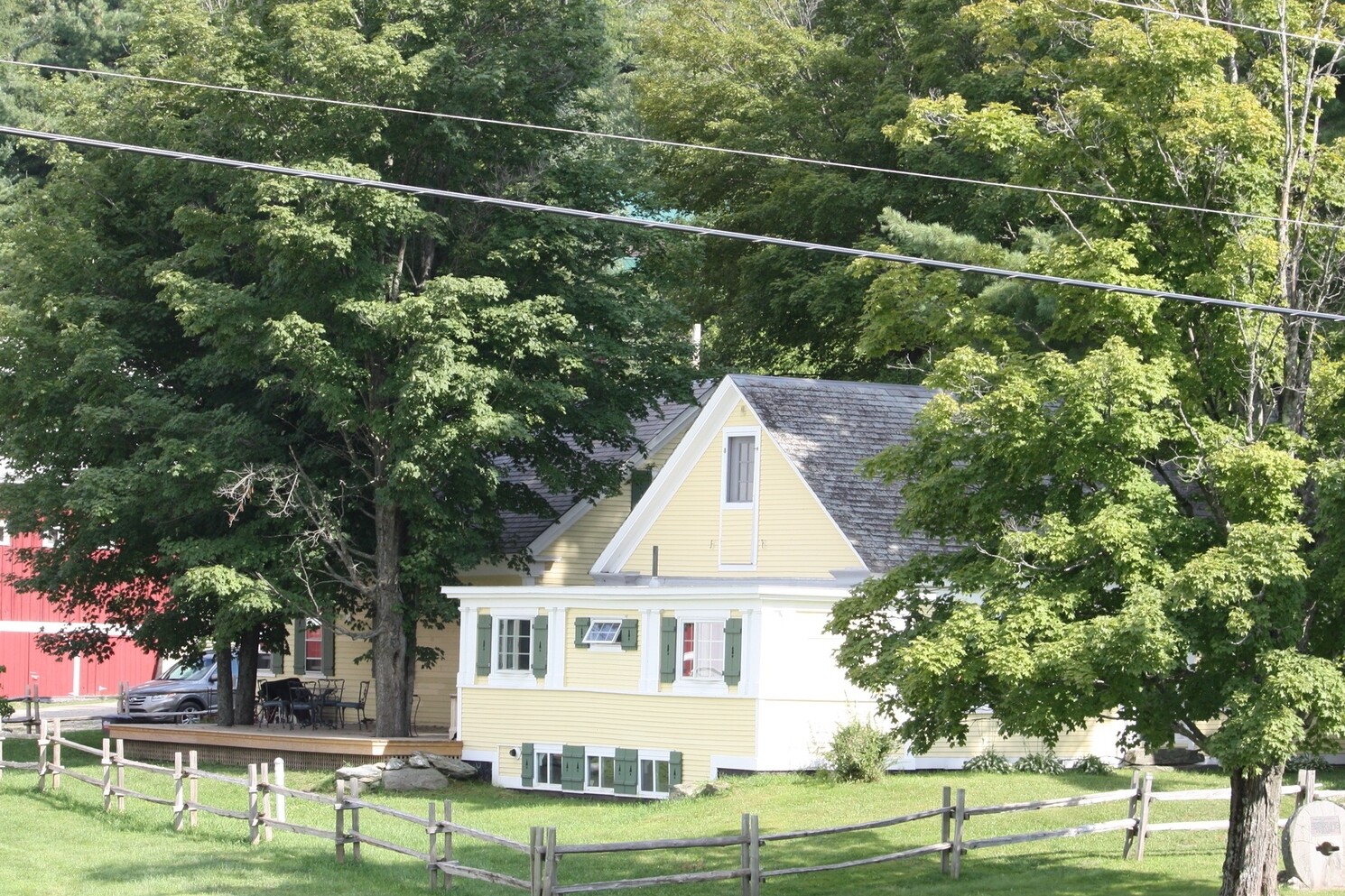 The Inn at Teela-Wooket
A charming Vermont Country Inn on the grounds of the Windridge Tennis & Sports Camps at Teela-Wooket. The Inn is not open to the public however it may be rented for weddings, family reunions, small corporate meetings, and other events at Windridge. It will be available to parents of campers on the eves of opening and closing days. For information and rates, please call the Windridge office at 802-860-2005 or Ted at 802-238-8379.
Nearby
Northfield Country Club golf course is 5 minutes drive; Northfield town is 10 minutes away. Montpelier, Sugarbush, Warren, and Waitsfield are all within 30 minutes. The closest airport is Burlington which is a one-hour drive. Contact us today for more information on our team-building venue and facility rentals in Vermont.